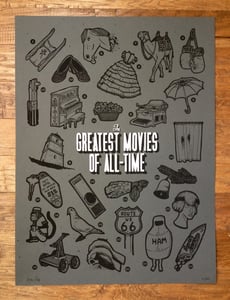 $

25.00
18"x24" 2-color screen print on 100 lb Mr. French steel grey. Limited edition of 40. Each print is numbered and signed.
The print is a visual representation of the Top 25 movies of all time. A 11"x4.25" list of the movies is included with each print for display or impromptu friend quizzing.
I pulled each one of these in my garage, so expect a few minor imperfections from print to print.
Ships rolled in a sturdy 3" shipping tube.